The 5 Best Conceal Carry Guns.

13

minute read
What Firearm Suits You
As American Citizens we enjoy our rights that many other countries do not have, that is the right to carry firearms, We have various courses on how to carry a firearm, and different courses on how to use our firearms in different situations. One of the biggest issues that many gun buyers and owners face is buying the right firearm. As many of us gun owners know when buying a firearm we go through a lot of scenarios and questions before we buy the right one.  A lot of people buy a firearm for the wrong reason, or simply buy one just to say they have one, or my favorite " My friend has one, so I bought one because it looks cool".
As a range officer for many years and avid gun buyer, I always tell people to test out the product before you buy it, just because your friend "Joe" has a gun and you like it all because it looks cool or its the most popular gun does not mean its the right gun for you. I always say this to my students and customers, " I may be a chevy guy, you may be a ford guy, I all depends on what is most comfortable to you in your hand. Its like test driving a car, they all don't always feel right.  You can go to most of your local gun stores and ranges and test out a firearm and see which model and brand fits for you and always try different ones and different calibers. Please do your research and educate your self on the specific one you like the most and read all the pros and cons and test test test before you buy please.
Remember  the key factors in buying a firearm.
1 The Cost:
Cost is arguably the biggest factor of them all, at least for many shooters.
For most, a firearm is a serious investment. Perhaps not to the degree of a house or a car, but it's up there.
The "buy once, cry once" rule applies. Choose wisely. I have seen many people buy out of impulse and a couple of weeks down the road comeback and say that they did not like the firearm, that it feels uncomfortable etc.
2:Purpose of Use: 
What are you planning on using this firearm for? This consideration is largely going to impact size more than anything else. Self-defense? Perhaps a compact.
3: Fit :How well does it fit your hand,fit should include your ability to easily reach and manipulate the controls on the firearm. (Magazine release, safeties, slide lock levers, decockers, etc…)
You should handle the firearm you are considering to buy.
4: Care: Just like a Car, a gun has many parts that need to be maintained and cleaned. Proper maintenance needs to be done regularly. Take in to consideration that parts will break and you need to be able to afford the aftermarket or the manufacturer parts to keep your firearm functioning properly.
So that is just the tip of what you need to consider when buying a firearm, now lets dive into Conceal Carry what type of firearms are the top and what to consider when you are choosing a conceal carry weapon.
1: Take a Conceal Carry Class to educate yourself about the laws on firearms. Make sure to register for the class and that they let you shoot about 50 to 100 rounds not just one and poof you got your permit those course that let you only fire one round are only out to get your money and do not educate you very well. Stay clear of those.
2: Get acclimated with your firearm, once you have narrowed down your search to that gun you want, test fire it multiple times in the different calibers it comes in at your local gun range.
3: Think light and thin, which equates to carrying comfortably. Also, think about how you dress. Will the gun be easy to conceal with your normal, every-day wardrobe? You may want to try before you buy.
4:  reliability and durability in a carry gun. Remember, if you are going to carry your handgun everyday and practice with it, it must hold up!
5: A Good Trigger: You want a trigger that is neither too heavy of a pull nor too light. Bottom line—does it feel right for you?Too light of a trigger can spell accidental discharge.
6: OPERATION OF THE FIREARM: Your Firearm should be safe and easy for you to operate,Ease of operation includes choosing a gun that's simple to field strip for routine cleaning and maintenance. Choose one that's difficult, and the end result will be that you won't maintain it, and then it won't work when you need it. Remember Under stress, whatever fine motor skills you do have tend to go away. so take in to consideration that the firearm you get need to be easy for you to operate. such pulling back the slide on a semi auto pistol or Can your thumb reach and operate the magazine catch to drop the magazine. If you have a revolver, can your thumb easily reach and operate the cylinder release latch? SO here are the things to take in to consideration.
Now on to the Good Stuff the Top 5 Guns to Conceal Carry.
There are hundreds of variations of CCW guns to select from, how do you even begin to choose?  The type of firearm one chooses to carry depends on a variety of factors, such as personal preference, defensive requirements, method of carry, hand size and even body type.
TOP 5 Conceal Carry Guns.
1: Glock G43
Smith & Wesson M&P9 Shield:
Springfield XDs 3.3
This model's 3.3-inch barrel offers a little more sight radius than other single-stack nines, which, in conjunction with the eight-round extended magazine. The pistol itself is fitted with a red fiber optic sight up front that seems to gather light and focus your attention where it should be: on the front sight. The Springfield always feels comfortable in the hand from the XD to the XDM. The XDs has the new checkered pattern grips which do leave a print on your palms when you are shooting. The fact that  you can feel the back-strap safety on the the Springfield always made me like this fire arm,  the fact that when you go for your weapon on the side of your hip and you feel your weapon there when you depress that back strap is a great feeling. This fire arm has some good features that tend to get in the way of some shooters. Like the ambidextrous magazine release which is a good feature to have, it has a tendency to get in the way when you are shooting. You can depress the mag release by mistake while shooting and your magazine will fall out. I have seen this happen numerous times on the range. The trigger could be a little lighter and the reset could be a bit shorter. Though with at least 1000 rounds put through it on the first day I got mines,I have never had a problem with my XDs. I do recommend this firearm as well.
Ruger LC9s Pro: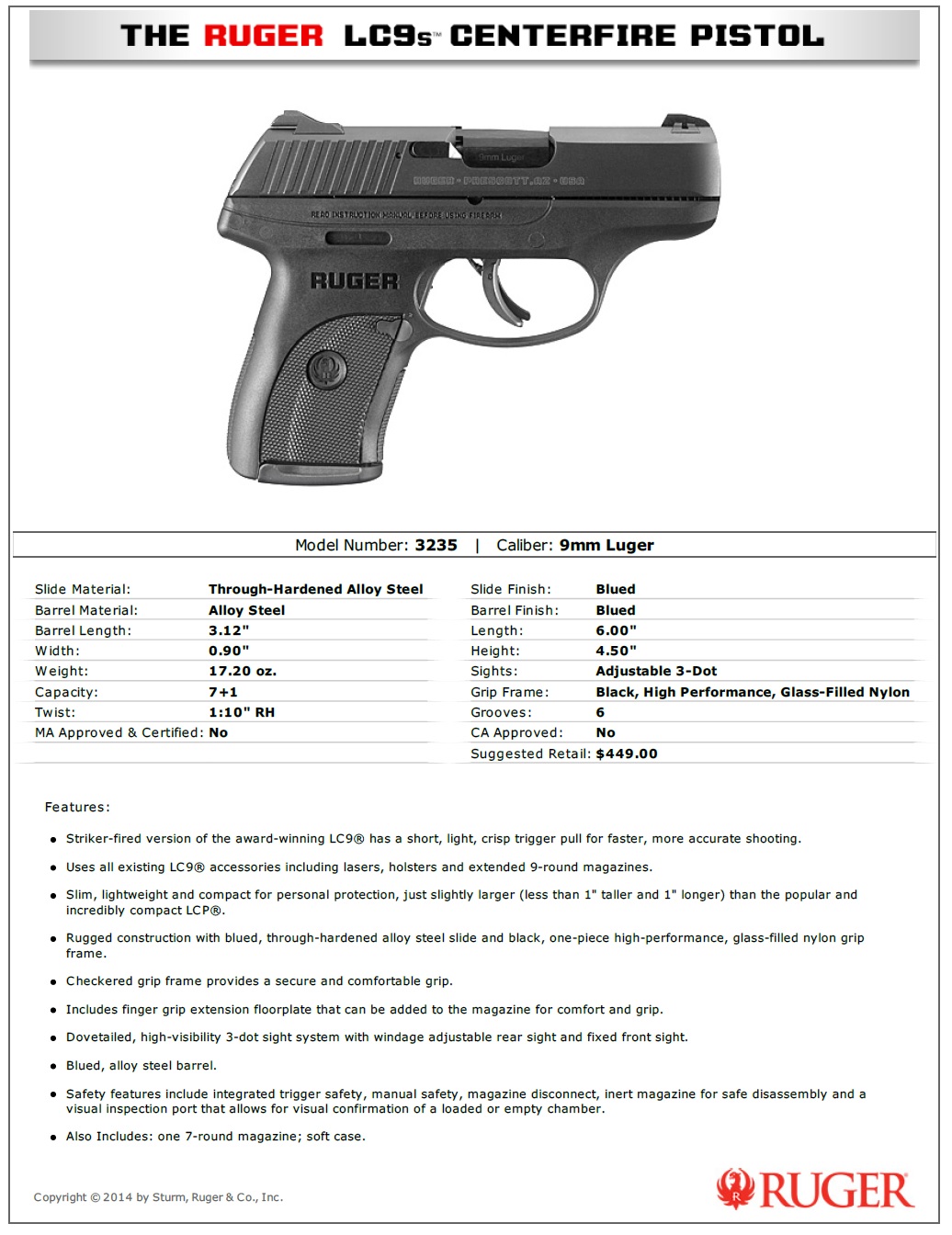 The Pro model offers no external manual safety or magazine safety, and this one works with all the accessories such as lasers, lights and extended nine-round magazines that already exist for the LC9. The LC9S is a pocket, polymer-frame, recoil-operated semi-automatic pistol. The LC9s Pro incorporates the lightest trigger of any polymer-frame, single-stack 9mm compact, most have a 5.5 pound trigger, the LC9S has about a 4.5 pond trigger which is one of the nicest trigger pulls out there for carry weapon in that size. The other key point, this fire arm has a clip-draw which means you can clip it on your pants from inside your pocket and it is a matter of getting used to but it is a convenience to have that clip draw. The only fall back for this fire arm is that it is finicky on using +P ammo, and certain brand of hollow points get hung up when chambering a  round. This fire arm is a top choice as well.
Now last but not least
Taurus 709 SLIM:
The Slim weighs in at 1lb and 3oz and has naturally pointed forward grip, and the trigger is great nice and crisp and smooth. The taurus, has had a bad rep in the gun world as being low end guns but unless you go out and fire one and own one for your self you will find out that this is one reliable and gun weapon to own. I own the pt111 and I am now because of the reviews interested in purchasing the taurus 709 slim. For the price this fire arm is great for first time buyers and for someone on a budget in the market for a reliable carry weapon and not willing to break the bank. This fire arm has been put to the test against the G43 and it stood tall in the challenge. The trigger is great and feels great in the hand when shooting, The weight is also great and you don't even noticed when you are carrying it. The only down fall it comes with only one magazine.  So I give the taurus 709 slim 5 out of 5 rating .
So in Closing always look for quality over quantity. To always research and test before you buy and take the appropriate classes to familiarize yourself with the laws pertaining to fire arms and courses on how to use your fire arm.
So Keep it here At Real NSE .
God Bless .
Follow us!